From the Executive Editor
What Prevails (v. 9)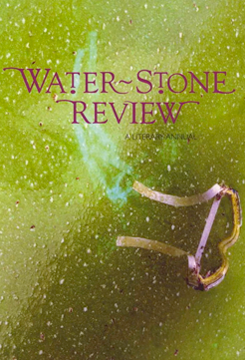 We've dedicated this issue to the memory of Frederick Busch, a fine writer who died on February 25 at the age of sixty-four.  Busch was a visiting writer to the Graduate School of Liberal Studies (now The Creative Writing Programs) at Hamline University.  An avid fan of Busch's, I'd invited him several years ago to come to Hamline as a visiting writer.  He responded to my request with a polite, if kind, refusal.  I found out later that I was offering him far less than the amount he regularly paid his visiting writers at Colgate College, where he taught up until his death.  "Money isn't everything," he said, "but you're offering too little for me to agree to leave my desk and my home and travel to Saint Paul, Minnesota."
     Several years later and by this time savvier in the ways of maneuvering through departmental budgets, I forged a bond with the Dean of the College of Liberal Arts here at Hamline (a Melville scholar), and made a second offer for Busch to come as a visiting writer.  It was still low, by his standards, but he was impressed with my tenacity and graciously agreed to come.  
     Busch's visit to Hamline offered riches to all involved.  He was smart, expansive, astute, and generous.  He spoke lovingly about his wife Judy and his sons, one of whom had recently returned – safely – from Iraq.  I appreciated his clear and fervent point of view on the role of creative writing in the academy (essential, he said, although often undervalued by English departments), the meaning of family, his regard for students, his commitment to exploring what he considered the true dimensions of human nature.  He was passionate in his near despair over the Bush administration's reckless and wrong-headed engagement in Iraq.  
     My own personal moment came when we were poised on a curb in front of the Kyber Pass restaurant on Grand Avenue, where we'd had dinner with our graduate students.  With traffic racing by and I surging forward in my usual rush, he took hold of my elbow and gently held me in place.  I felt for a moment as if I'd hurtled back in time and were standing again on the curb on Front Street alongside the train station in Plainfield, New Jersey, my father at my side.  No one had held my elbow like that since my father took sick in 1985, dying shortly after.  Although Frederick Busch was not old enough to be my father, it felt for a brief moment as if my father had returned.
     Such kind and gentlemanly regard is a gift, I realize now, in my own middle age.  As was Frederick Busch's tremendous talent as a writer, his service to others as a teacher, and his example – to me and, I'm sure, to countless others – of what it means to live a balanced life: husband, father, writer, dog lover, teacher, citizen of these United States.
     We've titled this issue What Prevails, borrowing from Su Smallen's lovely poem, "November 3, 2004 / What Prevails."  There's more than the usual share of hardship in this year's contents: the death of children, suicide, AIDS, war, emigration, abortion, cancer, poverty, divorce, hurricanes.  What prevails with such sorrow in the world?  Moments of light and hope arrive via nature's beauty, love, forgiveness, the kindness of strangers, the power of the imagination, faith, and much much more.  
     The 2006 Meridel Le Sueur Essay, "An International Incident" by Patricia Hampl, offers her usual intelligent reflection on the role and nature of memoir as she revisits a café in Prague in the Spring of 1975, during the fall of Saigon, when she is forced to face her own ignorance about the larger world.
     We are happy to publish the winner of this year's Brenda Ueland Prose Prize, judged by Nicholas Delbanco: "Galveston Island Breakdown: Some Directions," by Sue William Silverman.  We are publishing as well Rachel Hall's short story, "In the Cemeteries of Saint-Malo," which Mr. Delbanco selected for an honorable mention.
     Our three writers' interviews are with Frederick Busch, Julia Alvarez, and Brenda Hillman.
     This year we are including the work of seven talented photographers: Angela Strassheim, Brian Lesteberg, Colin Kopp, Jocelyn Chase, Katherine Turczan, Patrick Kelly, and Troy Williams.  These photographs were curated by Stacy Barnes, a student at the Minneapolis College of Art and Design (MCAD) who also did the cover design and layout of this year's issue.  Like the writers we are publishing, who are selected by the editors and editorial board (all graduate students in Hamline's Graduate School of Liberal Studies), the seven photographers are emerging and well-established artists who are viewed as mentors by MCAD students.  
     The photographs create their own narrative(s) that interact(s) with the text in multiple ways.  As do the poems and prose selections in the collection, the photographs contain elements of light and dark, sadness and hope.  They can be experienced on their own, in relationship with each other, and with the text.  We are excited not only by the interaction between text and visual art but by the shared vision between MCAD and Hamline.  
     While bicycling along a street lush with cherry blossoms, the speaker in Alicia Ostriker's poem, "April in Princeton," reflects on the advantages of old age: pleasure, clarity of vision, respite from the more painful passions.  "I have learned to be a fool for beauty," she says.  "Me, too," I answer.  May this issue make you a fool for beauty, too.