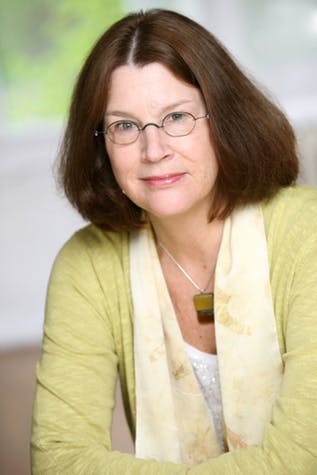 Mary François Rockcastle is the author of the novels In Caddis Wood and Rainy Lake, both published by Graywolf Press. Her third novel, Day Lights the Bone, is represented by Rubin Pfeffer Content and has been submitted for publication. In Caddis Wood was a finalist for Minnesota Book Award, an Indie Sleepers pick by Publishers Weekly, and a Midwest Connections selection. Rainy Lake was also a finalist for a Minnesota Book Award and earned a Best Book for the Teen Age from the New York Public Library.  Rockcastle is the recipient of a Bush Foundation Fellowship, a Loft-McKnight Award of Distinction, and a Loft Mentor Award, all in fiction. In 2015 she was the recipient of the Kay Sexton Award, given by the Friends of the St. Paul Public Library, for long-standing dedication and outstanding work in fostering books, reading and literary activity in Minnesota.
After completing an M.A. with a double emphasis in English and creative writing from the University of Minnesota, Rockcastle joined the adjunct faculty in the Master of Arts in Liberal Studies program at Hamline University. She and her colleagues worked together to develop and launch the MFA in Creative Writing program at Hamline, where she also began teaching.  In 1999 Rockcastle became Director of the Graduate Liberal Studies Programs at Hamline and in 2004 was made founding dean of the Graduate School of Liberal Studies (GLS). During this time she received an award for outstanding teaching and service. As Dean of GLS, she launched a low-residency MFA in Writing for Children and Young Adults in 2007 and a BFA in creative writing in 2011. When GLS merged with the College of Liberal Arts in 2011, she became Director of The Creative Writing Programs CWP).  In the summer of 2019 she stepped down as Director of CWP but has retained her position as Director of the MFA in Writing for Children and Young Adults.  She was awarded tenure in 2010 and was promoted to full professor in 2016.
In 1997 Rockcastle founded Water~Stone Review. She served as Prose Editor from 1998-2005 (Issues #1-7), Fiction Editor from 2014-2015 (Issues #17-18), and Executive Editor from its inception through Fall 2019 (Issue #22). During this time, she wrote the opening "From the Executive Editor" essay for each issue. She also co-conducted interviews with the late Frederick Busch (Issue #9), Benjamin Percy (Issue #17), and Percival Everett (Issue #22), all of which were published. In 2009 she was awarded the Stanley W. Lindberg Award for Excellence in Literary Editing.
Rockcastle served for six years on the board of directors of the national Association of Graduate Liberal Studies Programs, three of them on the executive committee, and led the effort to create Confluence, The Journal of Graduate Liberal Studies. She was selected as fiction mentor in The Loft Mentor Series in 2013-2014. She is currently on the board of the Kerlan Collection of Children's Literature at the University of Minnesota.
She is married to architect Garth Rockcastle and lives in Minneapolis. Her older daughter, Maura Rockcastle, is a landscape architect and lives with her husband, son, and daughter in Minneapolis. Her younger daughter, Siobhan Rockcastle, is an assistant professor in the School of Architecture at the University of Oregon and lives with her husband in Eugene.