From the Executive Editor
What We Have Become (v. 13)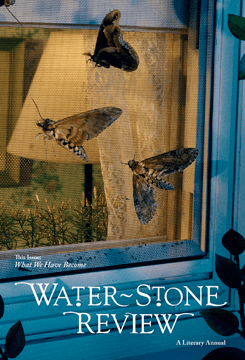 In each issue of Water~Stone Review, the editors, assistant editors, and members of the editorial board come together to review the subjects, themes, telling images, and lines from the work we've selected to arrive at a title that best captures its substance and tone.  The title for this issue is What You Have Become, which conveys both a state of being (who a person or people is/are now) and an act of change (who that person or people is/are as a result of some kind of growth, evolution, or transformation).  In many of the poems, short stories, and works of creative nonfiction in Volume 13, there is a powerful sense of characters having arrived at a place—a place physical and/or psychic that represents the lightest and darkest of human intentions and actions—through their own choices and histories, good and bad.  These choices, as well as the behavior of those on the receiving end, are, in the end, what form the people we become.    
The characters in the fiction we're publishing in this issue have a strong impulse to hurt or protect others.  Their varied responses to this impulse, often complicated by the circumstances of their lives, speak powerfully to our title: What We Have Become.  While they have a much different scope, the poems in Volume 13 echo and deepen the creation of these myriad states of being and acts of transformation.
In "Palestine Boy" by Luke Rolfes, two teenagers—one an overweight Iowa football player prone to violence, the other his Palestinian classmate—struggle to overcome their preconceptions and jealousy of the other.  In "Me and My Daddy Listen to Bob Marley," Ann Pancake, winner of this year's Brenda Ueland Fiction Prize, judged by Dan Chaon, maximizes her originality and gift for language to capture the mesmerizing and unfamiliar (to us, the adult readers) interior world of a vulnerable but resilient small boy in the car of a chillingly inept father.  Josh Wilkes, another writer with a gift for voice and language, portrays a harsher, more violent picture of a young mother trying to protect herself and her children from her unhappy, out-of-control boyfriend.  
Eric Charles Hansen honors a different kind of father in his poem, "Father's Restraint": "He stands on this continent knowing he chose / again and again to avoid ruining the people he loved. / Stayed out of trouble.  All he did is refuse."  
The teenage protagonist in Sean Padraic McCarthy's story, "Tell Me Something Good," must decide whether he will join his friends or not in the rape of a drunken teenage girl.  Jamer, the main character in "Straight Up and No Sky There" by Stephanie Dickinson, must face retribution from a neighborhood gang when he rebels against the gang's cruelty to an old woman, her pet chicken, and his own beloved hummingbirds.  
"The men I love are collecting suicide songs again," writes Christina Olson in the poem, "The Men I Love."  "They are cutting the seatbelts out of their Pontiacs and driving around the city taking sharp turns."
The creative nonfiction in this issue travels further afield, but it, too, explores the movement from one state of being to another and the choices we make getting there.  A teenager's first job in Michele Morano's "Evenings at the Collegeview Diner" becomes a vehicle not only for making money of her own but for reuniting, for short periods of time, her broken family.  Aaron Raz Link, in "Comics," draws on the accounts of travelers such as Odysseus and Marco Polo, his study of physical theater, his experience living as a white girl in an all-black neighborhood, and Abraham Lincoln's writing of the Emancipation Proclamation to reflect on his transformation from female to male.  Re'Lynn Hansen revisits the kidnapping of Patty Hearst in the early 1970s and the ways in which that kidnapping (plus Vietnam, music, Watergate) entered and affected her own life as a teen during that time.  
"May it be to me as you have said, / she is said to have told the angel."  The ordinary girl in Jacqueline Kolosov's poem, "Incarnate," has been marked for transformation by a force too big to resist.  "How could she, just a girl really, have said no?" 
Whether the transformation of the body is chosen, as in the act of giving birth in Aimee Nezhukumatathil's lovely "Birth Geographic," or not, as in having to rediscover the taste and smell of food after a heart-rending break-up in Brenda Miller's "What I Could Eat," or the struggle to survive cancer in Ruthann Robson's "In the Kingdom of Things: Sampling an Unmarketable Memoir," how we deal with that transformation means everything.  Here's how Ruthann Robson sees it: "The task of art is to make something out of something else.  The task of life is to make nothing like nothing else.  The task of love is to look and look and never look away."  
In this year's Meridel Le Sueur Essay, "A Window at Civitella," Honor Moore writes a meditation on solitude and aging.  For her, choosing the life of the writer meant choosing, too, a life of solitude.  She names the gifts, as well as the losses, that came from that choice.  
There is comfort in "the utility of things," Stephen Knauth writes in his poem, "Tardy Lament."   An heirloom tomato, flowering jasmine, dusk falling, yeast rising in a bowl, a garage door, a spider caught in the navel of an orange, a sherbet cone, a tree swing, pigeons in a black sky, pine needles, a line of lindens, the sound of a train, an augur cutting ice, a lone wren.  There is comfort, too, in ordinary moments: practicing a Bach fugue, playing a game of cards, digging a tulip bed, lifting a wheelchair, drinking tea, sneaking a smoke, watching a child coloring on a wall, writing on a chalkboard, weeding beans.
Our writer's interview is with Terry Tempest Williams, author of Finding Beauty in a Broken World, Refuge—An Unnatural History of Family and Place, and nine other books and essay collections.  In her interview Ms. Williams explores the particulars of her own creative process, the paradox of death, the experience of turning fifty in Rwanda, her love of the French feminist deconstructionists, her Mormon upbringing, the role of the artist to "widen and heal the split within ourselves," and more.
We are pleased to include a folio of photographs curated by Minneapolis Collge of Art and Design graduate Ashley Kapaun.  In selecting the photographs for this issue, Ashley wrote the following:
My inspiration revolves around the aspect of photographic storytelling and exploring 'who we have become' through identities lost, cultivated, and transformed.  The photography is narrative, but the internal and reflective qualities create an abstraction from specific thoughts and stories.  Each conveys the harmony and/or conflict of human presence and the fingerprints left.
We are proud of the correspondences created between and across these photos and text.
This year we are saying goodbye to Judith Kitchen, whose smart and eloquent essay reviews of creative nonfiction have graced Water~Stone Review for ten years.  Judith is focusing her time and attention on her own creative work and teaching.  In her place we are happy to welcome Mary Cappello, a writer whose work and opinions we've long admired.  Her first essay review, "Abundance of the Short Form," is in this issue.  We wish to honor Judith Kitchen's contributions to the review and to the field of creative nonfiction by naming our triennial prize in creative nonfiction after her.  The first Judith Kitchen Creative Nonfiction Prize winner will be published in our fall 2011 issue.
In his essay review of four books of poetry, Stan Sanvel Rubin focuses on the nature, and sound, of voice in the written poem.  When we hear the voice of the poem, what exactly are we hearing?  "Maybe what we read for, " Stan writes, "even without realizing it, is not so much voice as presence, the possibility of transformational encounter, the sense that the words before us, whatever their shape or content, were produced by someone."
The possibility, and the act, of transformational encounter run throughout this issue of Water~Stone Review. The voices on these pages, in Terry Tempest Williams' words, "offend," "disturb," "widen and heal the split within ourselves."  Please turn the page and see for yourselves.