From the Executive Editor
In Transit (v. 10)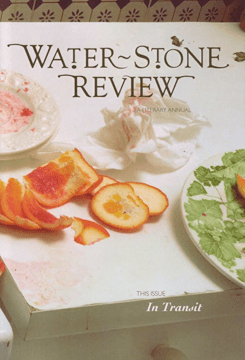 We've titled this issue In Transit because it fittingly captures the theme as well as the movement we experience as we travel through the contents.  The human beings in the poetry and prose we've selected are in transit between their roles as icons and leaders and their own, personal tragedy, as is the case of the fictional Jackie Kennedy in Adam Braver's "Mrs. Kennedy is Organizing Herself"; between the city of the present and the city of possibility in Barrie Jean Borich's "Cities of Possibility"; between the margins of society and the center, discussed so eloquently by Eavan Boland in her interview.  They are in transit between living with loved ones and living alone, illustrated poignantly in Josh Wilkes "Broken" and Nick Healy's "Joyless Men"; between the language of origin and the language of the present, or, in Junot Diaz's words, between Third World and First World.  They are in transit between addiction and sobriety in Anna Blackmon Moore's "On a River"; between innocence and shame in Gina Frangello's powerful "Slut Lullabies."  They are in transit, still, between segregation and integration of race; between youth and middle age; between being single and being a parent; between the real person and the one in disguise; between modesty and confidence.
      Whether they—we—are walking the city at night, boarding a bus in China, riding a bicycle cross country, crossing the street in midtown Manhattan, standing on a jetty overlooking the Gulf of Mexico, skiing at Gooseberry Falls, reading Charlotte's Web on a drive east to the Berkshires, dissecting daffodils in biology class, dancing in a bar, shadowboxing with our children, or writing a poem on a fall day—we are all, readers and writers, in transit between one place, one state of being, and the next.
     "Before I became a poet," Elizabeth Alexander writes in the 2007 Meridel Le Sueur Essay, "Second Spring," "I was a dancer."  In this essay, Alexander explores the connections between her life as a young woman studying dance and her life, now, as a poet, and the overlapping lessons learned in both.   
     We are happy to publish the winner of this year's Jane Kenyon Poetry Prize, judged by Eleanor Lerman: "Ascension: The Uprising," by Mark Chapman, a writer from California.  
     Our two writers' interviews are with Irish writer, Eavan Boland, author of ten books of poetry and numerous books of nonfiction, and Junot Diaz, author of, an award-winning collection of short stories set in the barrios of Santo Domingo and in central and eastern New Jersey. 
     Having begun last year to introduce photography into each issue of Water~Stone Review, we are very pleased to present the work of ten emerging and accomplished photographers: Davin Youngs, Laura Letinsky, David Goldes, Erin Johnson, Stacy Barnes, Victor J. Blue, Jaret Belliveau, Grant Willing, Joe Kramm, and Vince Leo.  The photographs were curated by Elizabeth Plahn, a student at the Minneapolis College of Art and Design (MCAD) who also did the cover design and layout of this year's issue. The work Elizabeth has chosen showcases a range that includes still life, documentary, and fine art photography.  We believe the art interacts with the text in numerous and provocative ways, creating a bridge between the visual and literary arts and a new and exciting dimension to the experience of reading Water~Stone Review.  
     The writers in this issue pose a number of questions I can't help but ponder as we move toward publication of Volume 10 of Water~Stone Review: Tell me how I should live? What is a good death? Is taming what we're after?  There are no definitive answers to these questions here, but good writers are exploring them.  Please turn the page and join us.